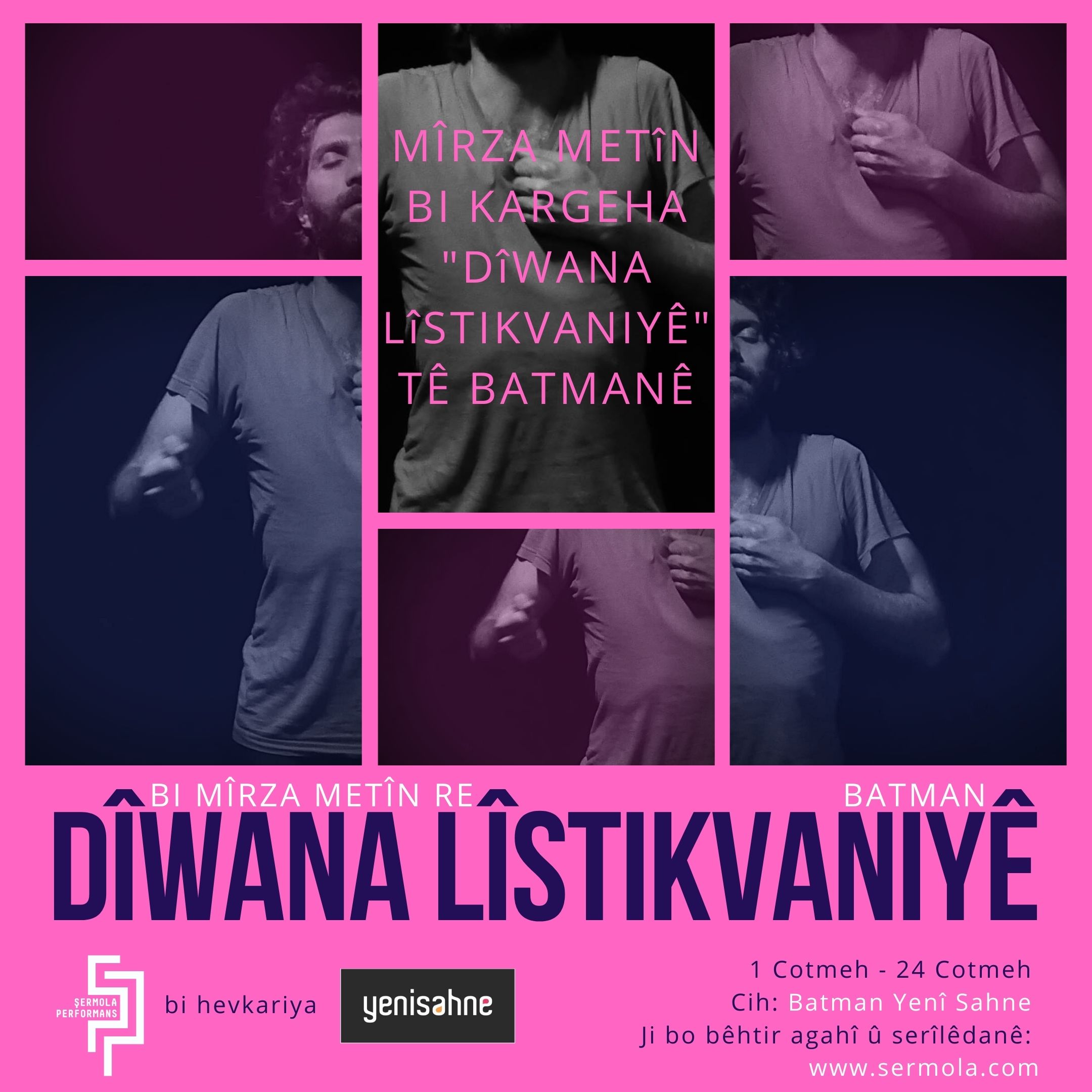 Oct 01, 2021
DÎWANA LÎSTIKVANIYÊ
DÎWANA LÎSTIKVANIYÊ (Kargeha Lîstikvaniyê)
Her lîstikvan yek e û taybet e!
Lîstik çi ye?
Mirov çima dilîze?
Daxwaza lîstinê ji ku tê?
Di navbera çanda gelerî, nasname, ziman, ol û teoriya lîstikê de pêwendiyeke çawa heye?
Lîstik/lîstin/lîstikvanî kengî û bi çi awayî vediguhêze û dibe kiryariyeke dij-mêtinger?
Dîwana Lîstikvaniyê dê bi rêya van pirsan, 
hewl bide ku xebateke safî pratîk pêk bîne; 
hewl bide ku qonaxên mîna dengbêjî, çîrokbêjî, govendgêrî, şivanî, mît, rîtuel û lîstikên gelerî yên kurdî ji xwe re bike rêber;
hewl bide ku hin rê û rêbazên yoga û medîtasyonê û hin rêbazên rojavayî yên lîstikvaniyê di vê rêyê de bike navgîn.
hewl bide ku rêyek xweser veke di hiş û laş û henaseya lîstikvan de;
hewl bide ku koka daxwaza lîstinê û ruhê xwebûniyê bicivîne û di canê lîstikvan de dengekî xweser derxe holê;
Dîwana Lîstikvaniyê bangeke şanoyî ye bo xwebûniyê.
Hevkarî
Dîwana Lîstikvaniyê, bi hevkariya Şermola Performans û Yenî Sahne (Batman) û bi rêveberiya Mîrza Metîn pêk tê. 
Li Ku?
Dîwana Lîstikvaniyê, dê li Batmanê li Yenî Sahneyê pêk were. 
(Gap, 2510. Sk. No:34, 72050 Batman)
Kengî?
1-24 Cotmehê, her roja În, Şemî û Yekşemê, di saet 19:00-21:00an de.
Bi giştî 4 hefte, 24 Saet.
Civîna Yekem: 01.10.2021, Saet: 19:00, Batman Yenî Sahne
Kî dikare serîlêdan bike?
Her kesê ku halêhazir lîstikvaniyê dike û her kesê ku dixwaze perwerdehiya lîstikvaniyê bibîne, dikare serlêdan bike. 
Buha?
Bi giştî 4 hefte, 24 Saet, 200 TL ye.
Çawa dikarî serîlêdan bikî?
Forma Serîlêdanê bitikîne, tijî bike, bişîne û li benda bersiva me bisekine. 
RÊZANÊ KARGEHÊ
Mîrza Metîn - şanonûs û derhêner
Şirîk û derhênerê hunerî yê Şermola Performansê
Kordînatorê Beşa Zimanê Kurdî ya Eurodramê (Tora Ewrûpayê ya Wergera Dramayê)
Hevderhênerê Neksûsê (Kombenda Şanogerên Kurd û Alman)
Avakar û edîtorê Dîalogê (Portala şano, dans û performansê)
Mîrza Metîn di sala 1980yî de li devera Serhedê ya Bakurê Kurdistanê, li Qaqizmana Qersê ji dayîk bûye. Bi xwe ji sala 1995an û vir ve ye xerîkî berhemhênana şanoyî ye. Wî di Teatra Jiyana Nûyê û Seyrî Meselê de perwerdeya şanoyê girt û di lîstikan de lîst. Di Konserwatiwara Zankoya Teknîkî ya Stembolê (İTÜ) Beşa Dansên Gelêrî de sê salan xwend, di pey re Zankoya Stembolê, Beşa Rexnegirîya Şanoyê û Dramatûrcîyê, Şaxa Zanista Nivîskarîya Dramatîk kuta kir. Mîrza Metîn beşdarî "New Writing Workshops with the Royal Court" bû û salekê li gel nivîskarên her wekî Zinnie Haris û Mark Revenhill û derhêner Richard Twyman xebitî. Di sala 2008an de tevî Berfîn Zenderlîoxlûyê wî Şermola Performans damezirand. Mîrza Metîn di warê nivîskarîyê, derhênerîyê û ekterîyê de ji alîyê gelek sazîyan ve hate perrûkirin. Heta niha 17 heb şanoname nivîsîne û 15 ji wan ji alîyê wî bi xwe ve û ji alîyê derhêner û şanoyên cîyawaz ve hatine bisehnekirin. Hin şanonameyên wî hatine wergerandin bo zimanên wek Zazakî, Almanî, Îngilîzî, Fransizî, Macarî û Tirkî. Herwiya hin berhemên wî bûne mêvanê gelek festîvalên girîng yên navnetewî û bursên nivîskarî û lêkolînî yên wekî Artist in Residency - IFA, Martin Roth Initiative, Akademie Scholss Solitude - Jean-Jacques Rousseau Fellows 2018, Goethe Institute - Research Residency Abroad 2022 û gelekên din wergirtine. Mîrza Metîn ev sê sal e li Almanyayê dimîne û wekî nivîskar û derhêner di xebatên xwe de berdewam e. 
Berhemên wî yên çapkirî ev in: Reşê Şevê (2010, Stembol - bi hevkarîya Berfîn Zenderlîoxlû), Jêrzemîn/Şanoya li Jêrzemînê (2014, Amed), Ziwsichenhalt (2018, Almanya), Lîstikên Tomerî 1 (2018, Stembol), Gottes Gewalter Leichnam (2020, Almanya - bi hevkariya Volker Lüdecke, Wajiha Said û Katharina Schlender) Gravité (2021, Fransa) Disco Number 5 (2021, Amerîka)